| | |
| --- | --- |
| Posted on July 14, 2014 at 4:55 PM | |
As I have been harvesting herbs, fruit and vegetables from my garden the past couple of days, I am feeling blessed by all of the abundance of organic food in my own back yard. I planted all of my gardens with the expectation of it growing and producing fresh fruits and vegetables, and now I am beginning to harvest what I planted.
When I planted the gardens I wasn't worried about 'how' the plants were going to grow, I didn't worry about how deep the roots were, or the 'mechanics' of how the plant is growing, or whether they would produce the food for which I had planted them, or the exact date of when they would be ripe. I planted them KNOWING and EXPECTING that when the time was right, these beautiful plants would give me what I wanted. The tomato plants would give me tomatoes and the pepper plants would yield peppers, I knew that this would happen, I expected it to happen, without worry, without knowing exactly how or when.
The same can be true in our lives. I hear so many people talking about how much they worry about things, about how something might go wrong, or how it is all going to come together, or whether or not what they want will happen. They talk about the "what if's". What if I fail, what if I get hurt, what if they don't like me, what if I lose my job. Well, what if you succeed?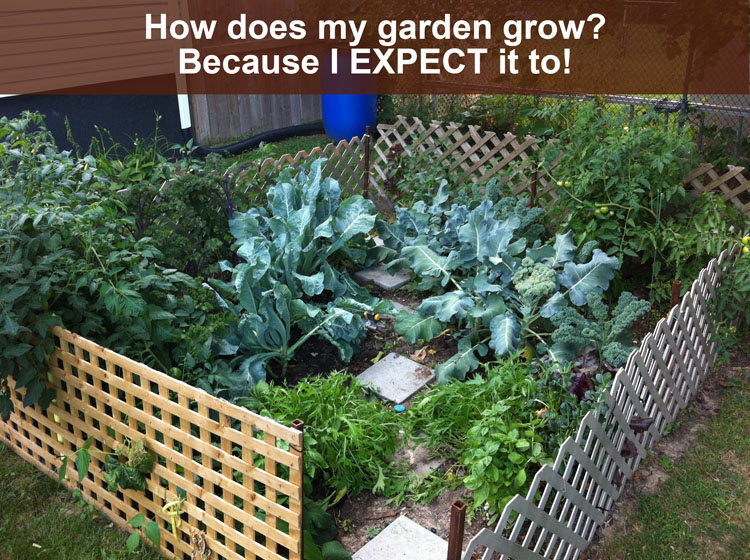 What if the seeds you plant today bear the fruit you are seeking? What if you actually get everything you have ever wanted? The best way to do this is to begin EXPECTING it to happen! Know that without a doubt it is coming to you, and it may be even something better than you had ever imagined! Let go of the fears and worries, of the how's and when's, of trying to control the mechanics, and leave it up to the Universe to figure out that part for you. Be open to the people and circumstances that come into your life to help you along the way. Be aware of synchronistic events that are happening all around you, they will guide you to where you need to go, or who you need to speak to.
Write down what it is you want, in a very detailed way. Close your eyes and envision it unfolding in a way that will make you happy, joyful and grateful. Practice this every day, see the end result of what it is you want, and see yourself living it. Use all of your 5 senses to bring your vision to life as much as possible. Once you are able to do this and practice it regularly, leaving all of the negative stuff behind, the Universe will respond…….because you EXPECT it to!
Love and Gratitude,
Stacey

Categories: None